Make it Clear
UX agency in London
We support digital products with excellent UI/UX
In a world full of noise and chaos, clarity shines like a beacon
Clarifying the complex
We've had 20 years to master our craft. That's how we know that however complex your challenge is; we can find ways to communicate your messages and deliver an exceptional experience.
Evidence-led
Our researchers, strategists and designers provide clear, actionable recommendations and evidence to support our solutions. Whether you're building something new or refining an existing product or service.
People-focused
Our people are at the heart of Make it Clear. We work hard to understand our client's culture, forming strong working relationships and building long-lasting partnerships.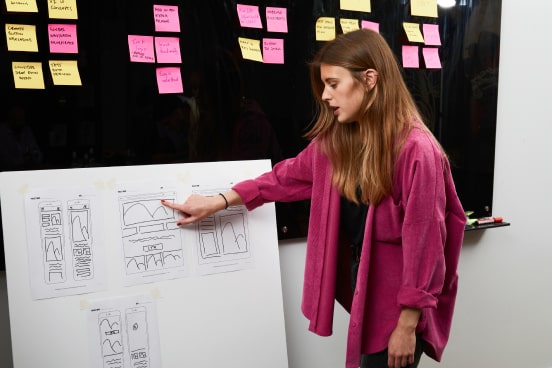 Our packages
Discover the packages we provide to help organisations create, rebuild or improve their digital products and services.
Find out more
Our process
Definition
We take an evidence-based approach to everything we do. Understanding your organisation, audiences and how they interact.
Solution
We work in close collaboration with our clients. Creating solutions that deliver effective UX/UI for users and results for the business.
Implementation
We work closely with the appropriate development teams to properly plan and execute the implementation phase.
Optimisation
Any solution is only as valuable as the results it delivers. We work with client teams to establish ways to measure, iterate and improve.
How our UI/UX design agency can help your London-based business
00Identify and solve user problems
We place the user at the heart of everything we do. Our user-centred approach to design ensures that your products and services are intuitive and easy to use for your target audience.
01Improve user engagement
Our UI/UX expertise can help your business to increase conversions, reduce bounce rates and improve satisfaction as we always consider key UX factors such as usability and accessibility across every aspect of our work.
02Enhance brand identity
Through strategic UI/UX design, our UX agency in London can help your business to enhance or shape its unique brand identity by developing a consistent visual language, creating a memorable user experience and improving brand recognition.
03Stay ahead of competitors
Our experience working with a wide range of industries and our expert understanding of the latest UI/UX trends and techniques can help your business differentiate itself through innovative design and, ultimately, stay ahead of its competitors.
04Provide measurable results
Through thorough and rigorous user research methodologies such as analytics and usability testing, we use data to measure and compare the usability of digital products over time, therefore optimising the user experience.
Our services
We provide a range of branding, UX/UI design and consulting services to support organisations
Explore services
Consultancy & Research
UX/UI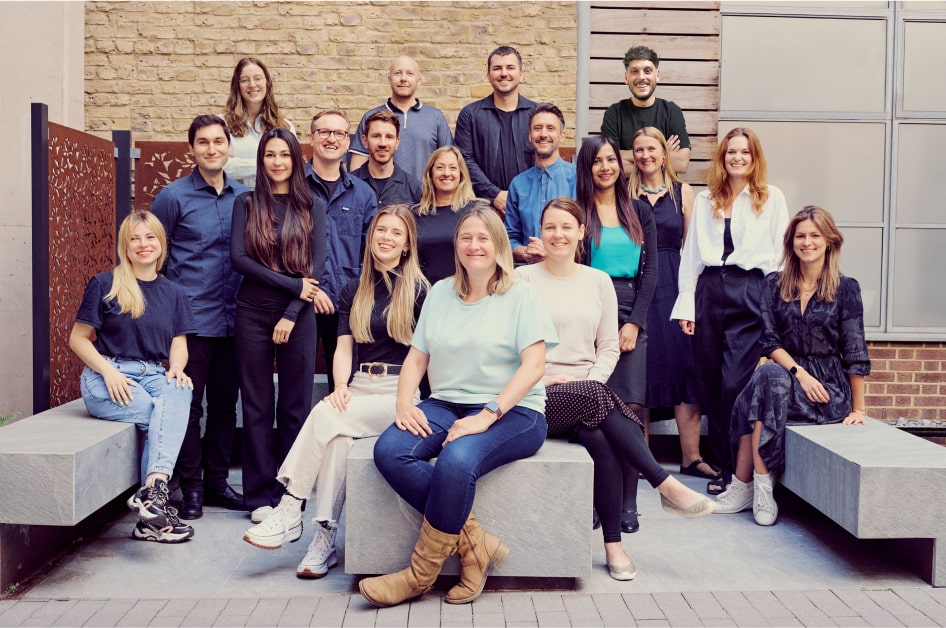 Our team
Our team are experts from branding and marketing, UX/UI design, research, consultancy, and account management. In a world of complex digital problems, we create human solutions built on empathy, communication and inclusion. Our approach stems from our desire to 'wow' our clients with award-winning designs, and build strong, lasting relationships.
Meet our team
FAQs
What is UI design?
User interface (UI) design is the user-centred approach to designing the interactivity, behaviour and overall look and feel of a digital product. UI focuses on the visual touchpoints that enable users to interact with a digital product.
What is the difference between UI and UX design?
Although UI design and UX design go hand-in-hand, they are distinct disciplines. While UI design revolves around creating an aesthetically pleasing user interface, UX design is not concerned with the visual quality of a digital product but rather focuses on creating a relevant, efficient and easy user experience.
What does a UI/UX design agency do?
UI/UX design agencies are specialist design consultancies that build websites, mobile apps and various other digital products from the beginning to the end. UI/UX design agencies might also provide services such as high-level UX strategy, user research, competitor analysis, front-end development, service blueprints and marketing strategy.
Can I see your designers' portfolios?
Examples of our work can be found on the Case Study area of our website. We can also prepare a tailored portfolio to demonstrate work that suits your requirements.
We have a designer in-house. Do we need a UX agency?
UX agencies offer a range of unique benefits. Firstly, UX design agencies are typically comprised of a team of professionals with diverse skills in user experience design, and usually invest in the latest technologies to optimise digital products. UX agencies also provide a fresh, unbiased external perspective on digital products. Working with a UX agency can also save time by undertaking tasks which might free-up your in-house team to focus on other areas of the business.
How are Make it Clear designers different?
With over 20 years of design experience, our design team has the skills to effectively solve complex challenges and deliver exceptional user experiences. Our design team works closely with our strategy and research team to ensure design solutions are data-driven and validated by real user insight.
Do your designers work on different projects simultaneously?
Our fast-paced team works on a variety of projects simultaneously according to a structured and well-organised schedule. This allows us to gain as much experience across a wide range of industries and constantly refine our expertise.
What additional resources will I get after the project ends?
Following the project, we work together with your team to ensure there is a seamless handover to developers. Our teams work with cloud-based software which enables us to integrate with your teams and process.
What other services does Make it Clear provide?
We offer a range of various services:
UX benchmarking
UX/UI design systems
Digital product accelerator
UI/UX consulting
User persona creation
Digital branding
Digital product marketing
We also provide UX audits, which review the user experience of a digital product and help refocus organisations, ensuring that approaches are realigned to reflect the needs of users and the organisation's objectives.