Brand and design
We work alongside your teams to craft a brand's purpose, principles and personality that defines your brand's essence. We support organisations with excellent design deliverables that impress.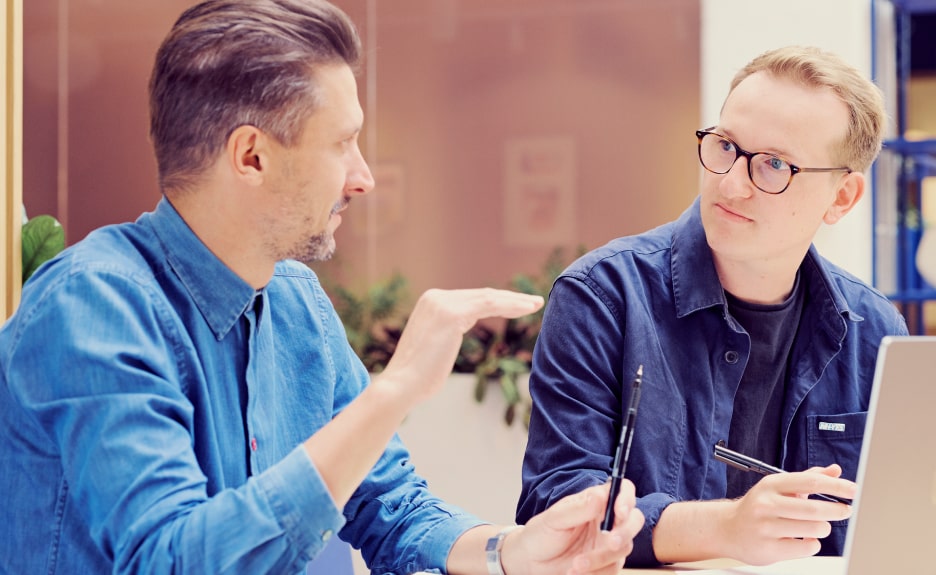 We specialise in crafting compelling brand identities, narratives and purposes that build emotional connections with audiences and create long-term value. Our team of designers are dedicated to producing visuals that breathe life into your brand's story, whether it's through the creation of a brand assets, a rebrand or a brand refresh.
Our services
Brand identity
Brand identity encompasses various design elements, including colours, typography, imagery, logos and visual styles. The consideration of these various elements is important as they convey the brand's essence across all touchpoints of a digital product.
Brand narrative
The brand narrative provides the context and meaning to an organisation, uncovering its history, personality and messaging.
Brand purpose
Brand purpose refers to the fundamental reason for a company's existence beyond profit generation and encapsulates its values, beliefs, and impact on society.
Brand values
Brand values are the core principles that underpin an organisation's fundamental beliefs, create an emotional connection with customers and stakeholders, and contribute to brand loyalty.
Event support
Event support involves our expert team creating designs for materials such as social media assets, stand designs, or collateral to be used at your event.
Print design
Print design is the creation of materials such as posters flyers, magazines, brochures, packaging, and other physical items. Print design involves the use of graphic design principles.
Video and animation
Video and animation involves animating text, images, and graphics to create dynamic and engaging content. We often support our clients with video and animation design for user interfaces, instruction videos, social media, and presentation assets to educate and engage their audiences.
Artworking
Artworking entails refining and preparing design assets and layouts to enhance brand identity, promote alignment with brand standards and produce an overall user-friendly experience.
Corporate presentations
Corporate presentations are a valuable means of communication to ensure clients make informed decisions, build a strong working relationship, and receive the most relevant information.
Social asset creation
Social assets are a highly valuable component of an organisation's digital presence and marketing strategy, which can convey their personality, values and culture.
Campaign creative
Campaign creative refers to the visual and conceptual elements designed to communicate a specific message or idea as part of a marketing campaign. It encompasses the visual design, messaging, and overall aesthetic that are used across various marketing channels to engage and resonate with the target audience.
Brand and design services offered by Make it Clear
Our process
Definition
We take an evidence-based approach to everything we do. Understanding your organisation, audiences and how they interact.
Solution
We work in close collaboration with our clients. Creating solutions that deliver effective UX/UI for users and results for the business.
Implementation
We work closely with the appropriate development teams to properly plan and execute the implementation phase.
Optimisation
Any solution is only as valuable as the results it delivers. We work with client teams to establish ways to measure, iterate and improve.